In the first half of the year it was ten points clear of the second-place manufacturer
Volkswagen was the leading car manufacturer on the Twitter channel in the first half of the year, with a level of presence ten points higher than its next competitor, according to the Social Elephants monetising tool. Specifically, Volkswagen's Share of Voice (SoV) came to 30%, while that of Audi was 20%. The brands with the next highest profile in Twitter were Ford at 17% and Mercedes Benz with 10%.
Twitter is the communication channel chosen by Volkswagen to pursue an innovative customer relations strategy, based on active listening, interaction and creating content of high interest to the brand's followers.
By the end of the first six months of the year the brand has consolidated a core of 78,731 followers and posted an average of 10 tweets a day, generating 40,777 interactions and a high level of conversation. Interest in the messages exchanged in these conversations was the highest of all the car manufacturers with a Twitter presence, reaching 22,706 retweets.
Brands like Seat, with 74,427 followers, record an average of 4.1 tweets a day, generating just over 4,200 interactions, with 2,147 retweets.
Mercedes Benz has 62,400 followers and generates 3.8 tweets a day; achieving 12,133 interactions and a retweet level of barely 6,561.
The Social Elephants monetising tool analyses the total for the sector, the eight car manufacturers most active on social networks, Volkswagen, Seat, Mercedes Benz, Volvo, Audi, BMW, Toyota and Ford, have 541,000 followers altogether, with an average of 5.4 tweets a day, achieving an overall total of 119,000 interactions.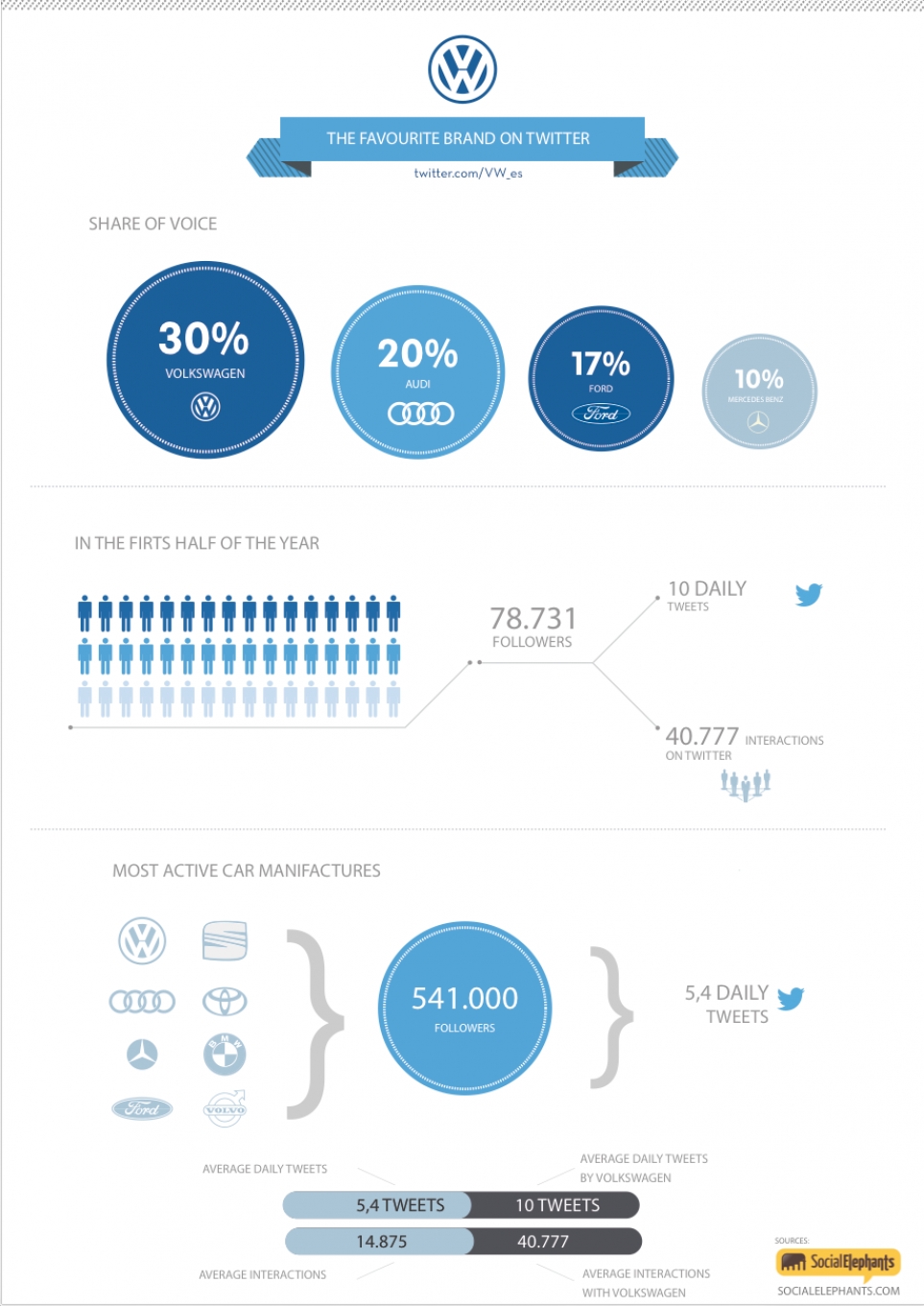 By
@Bernardamus